Huisregels voor in de dojo / Our house rules
Hygiëne en algemene regels rond en op de mat
Nederlands/(English)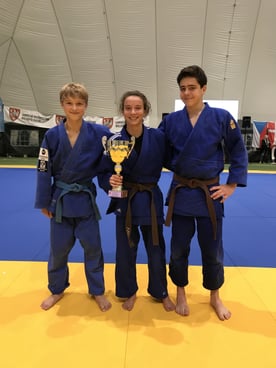 Judo (/karate/jiu jitsu/FA-SD) is een close contact sport:
het wordt door iedereen zeer gewaardeerd als je de volgende regels respecteert:
(it will be appreciated if you keep these rules in mind:)
-kom schoon en fris op de training (please make sure you are clean and fresh)
- hou je nagels kort en schoon (keep nails clean and short).
- draag geen sieraden of een horloge tijdens de training (don't wear jewelery or watches during a training).
- Gebruik slippers om buiten de mat te lopen (use flipflops to walk off the mat).
- Respecteer je uke/partner/maatje, en leer van elkaar (respect each other and learn from each other).
- Respecteer de sensei/je leraar (be respectful to the teacher).
- Respecteer de regels op de mat: bv. groeten en afgroeten voor de sensei en voor elkaar, zowel voor als na de les (respect the rules around and on the mat, like greeting each other before and after the lesson).
- Let op je omgeving tijdens oefenen (be aware of your surroundings during practice of all techniques).
- Pas je niveau, techniek en kracht aan aan je uke/maatje. Wees bewust van iemand's beperkingen en niveau. Ken je eigen kracht! (adjust your style and strenght to your opponent, be aware of somebody's limitation and (in)abilities). Know your own strength!.
- blijf sportief, accepteer je eigen beperkingen (remain sporty, accept your own weaknesses and strength).
- Vechtsporten beoefen je alleen in de dojo, niet op straat, tenzij je niet anders kan (practice martial art only in the dojo, not in the street, use it only in extreme circumstances).
- Bereik perfectie door >1000 x te trainen. Help elkaar om dat te bereiken. Dat is de kracht van KGS (achieve perfection by repeating an excercise a 1000 times. Help each other to achieve perfection. This is KGS's strength).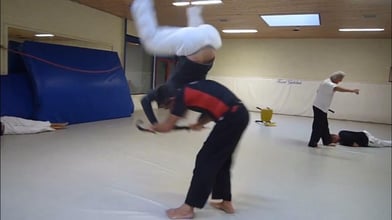 Voor alle sporters en bezoekers (for all visitors and sport fans):
- Als je verkouden, snotterig of niet lekker bent, is het beter om thuis te blijven, doe voor de zekerheid een corona test (if you have flu like symptoms, please stay home, do a corona test).
- Behandel voetschimmel op tijd, zodat je andere mensen niet ermee besmet. Draag slippers bij het douchen, dit verkleint de besmettingskans. Als je toch last hebt van voetschimmel, was je sokken op hoge temperaturen, strooi je schoenen in met antivoetschimmel poeder, en ga naar de huisarts voor een behandeling (treat athlete's foot as soon you notice it, wear flip flops if you shower or walk through the hallways, to limit the spread. Wash your socks at >90C and use fungal foot powder and cream, ask the GP for the right treatment).
- Niet met straatschoenen op de mat (don't walk with your street shoes on the mat).
- Eet en drink niet teveel voor de training. Geen eten op de mat of in de dojo. Water mag worden gedronken tijdens de training en in de buurt van de mat (limit food intake before training, no food on the mat or near the mat, water can be drunken during training and near the mat).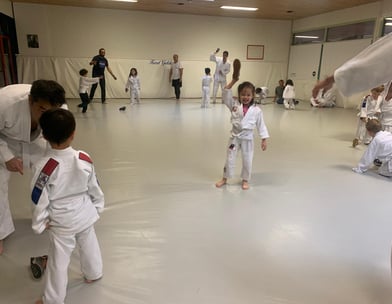 "Wees uw tegenstanders dankbaar voor de les in tolerantie, zelfbeheersing en geduld."
- Dalai Lama -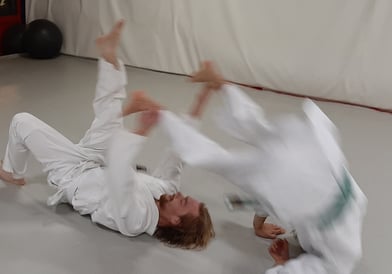 Wat heb je nodig om mee te doen?
Kom je voor een proefles? Dan is een lange sportbroek en een T-shirt voldoende. Je krijgt van ons een judojas te leen, zodat je lekker mee kunt draaien met de les.
Schrijf je je officieel in? Dan is het verplicht dat je in de lessen een judopak draagt. Wij hebben onze eigen judopakken; deze kun je aanschaffen tijdens de les. Je kan natuurlijk ook online of in een winkel een judopak kopen. Vraag even om kleding advies bij de leraar. Een tweedehands pak kopen van een andere judoka/kind mag natuurlijk ook en is goed voor een duurzame maatschappij.
How ONO Shohei embodied the virtues of Japanese judo and became the world's best (2021)
When accomplishing something that you've worked so hard for, it is natural for any person to express their joy. However, where there is a winner, there will also be a loser. The defeated opponent has also expended a great deal of effort to reach this point. Not expressing his emotions is a deep-rooted virtue that allows Ono to show respect towards his opponents.
See full article on: https://olympics.com/tokyo-2020/en/news/news-20200422-01-ja